Main Page
We kindly greet our former and new guests
on the website of the Seven Flowers Pension!
The Seven Flowers Pension is an environment- and child-friendlyaccommodation place embraced by the Gyergyó Mountains, which offers its guests the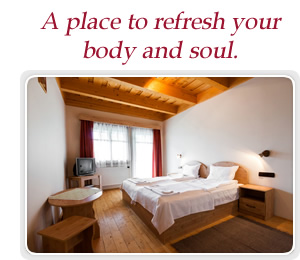 cloudless joy of relaxing their bodies and souls in wonderfully romantic surroundings, being equipped with all the achievements of the modern times.

The fairy-tale-like landscape is made magical by the great variety of different colours. The untouched nature and the uniquely fresh air make from this place the real Garden of Eden for those who are longing for calmness. The woods surrounding the guesthouse and the high standard programmes ensure unforgettable adventures for the people seeking either active or family relaxation.

On this page you will find a short summary about the Seven Flowers Pension and information about the places of interest and programmes in the region. You can have more details by clicking on the links.



We hope you will fall in love with this wonderful place, and get enriched with unforgettable memories and pleasant feelings, in order to recommend it to your acquaintances.

Enjoy surfing our website!